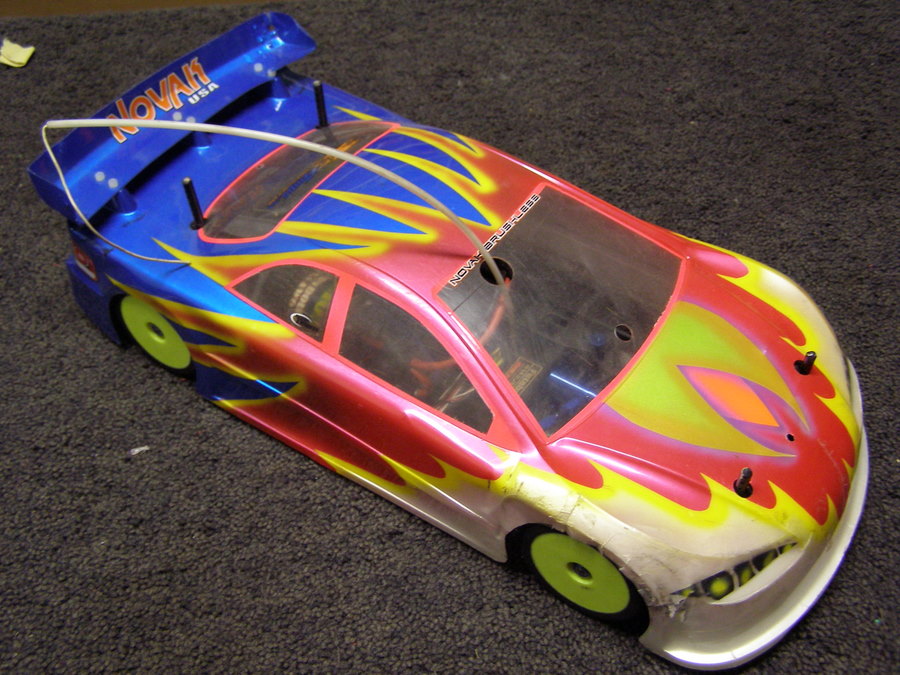 This is a Team Associated TC3 in good condition. It is well equipped and includes everything you need to run except some tools. Check out the photos and descriptions to learn more.
Description
I bought this car from a good friend when he got out of the hobby. He has run this model and maintained it pretty well. With everything there to get running, this lot was a good purchase. I have even included a few of my prized motors in this lot. I would love to keep this stuff, but I already have too much on the shelves. This whole lot was for sale for awhile, but has been broken up into smaller lots. I sold some back to my friend, and some I still have for now.
This lot is no longer for sale. Enjoy the photos and info though!
---
Body On Car
The body has some scars, but overall is still worthy of blistering up the street at60mph. The paint job looks custom and is very nice.
Rear End Overview
Here you can see the Carbon Fiber CVD bones. These are extremely lightweight and improve acceleration. The large heatsink, lightweight carbon fiber shock bodies, and Diamond 12×2 motor make for snappy performance with good battery life. There's also a little hair in there from moving too. Sorry
Motor, Mount, and Main Gear
Here you can see the Aluminum driveshaft, motor, and main drive gear. The heatsink has a spring on it you should see too. When tightening the motor in place, this spring does the work. You should never tighten it till it is totally compressed. It holds the gear mesh extremely well and tightening it too much will cause it to break the heatsink again. Yes, again. It has been JB welded and is strong as ever, but the reason it broke was over-tightening of the spring. Kapeshe?
Front End
Here in the front end, you will find the Carbon Fiber CVD bones. This further improves speed change response in the 4WD system. Without the motor in the car, the drivetrain rolls smoothly and efficiently. Shaft drive ensures reliability even in gravel or Rally conditions.
Electronics
The steering servo has Blue Aluminum mounts and RPM ball cups on the linkage. The electronics are as follows:
– Tekin G-12c III Digital Coolswitch Ultra High Frequency ESC
– Futaba R142JE AM 2Ch Receiver on Ch 84
Underside
The underneath of the car is in good shape with only minimal wear. Notice the Tires, they're all near perfect with no chunks missing and lots of meat left. I would guess these have only been run a couple times if that.
Whoa! Is that a Scharf Racing Modified Motor?! Yup!
Batteries
These are some expensive Ni-Mh batteries. They are Reedy 3300 Zap-2 matched packs. Probably pretty good, but I haven't tested them. Some of the specs have been marked out, but I don't know why. Both have good voltage.
Charger and Discharger
This charger seems pretty nice, but all I did was test it for 2 minutes to make sure it works. The discharger runs at about 14 Amps and has a start button with automatic disconnect of the pack when discharge is done.
– Prophet Plus Digital Charger w/printed manual
– Automatic Battery Discharger
Scharf Racing Motor Box Set
Here's a goldmine! My motors and tons of parts and tools! There are lots of new brushes, springs, and other parts in here. The bottom right motor (Trinity Midnight) is in unknown condition, but should be good. All other motors are my personal favorites. They don't match up with the labels, but I think there's a 16×2, a Stock Armature in Modified can, and maybe a 13×3 Twister "Carolina Mountain" Hand Wound Armature in a custom case. The best thing to do is try them. All should have fresh comms, zapped wet magnets, proper shims but timing may not be right on them. I can roughly set the timing if you need me to.
This Anti Static motor box is jammed full and has stickers on it. You can keep these motors going for a long time with this stuff! I spent probably $200 or more on this box and the equipment in it!
Wire and Connectors
You get several feet of 12 Gauge Silicone Flex wire and 10 sets of full Gold plated Deans connectors w/heatshrink. All of this stuff is available in my Web Store too. I will combine shipping if you order at the same time.
Transmitter
This is a pretty simple Futaba Magnum Sport transmitter. It needs cleaned up a little with a rag, toothbrush, and a couple drops of silicone oil. The battery holder that slides into the bottom is in new condition and the battery cover works well. It works. I tested it along with the car on the bench to make sure it was ready. You will need to check the range with it before running to ensure you don't lose control. It should work nicely.
Tire Lot
Here are 6 sets of racing tires that are included. A couple have small chunks missing, but they are all pretty good. The numbers designate the softness of the foam rubber. Not sure which is which, but it's the Shore number.
---
So that's the stuff. Please ask questions before buying so I can answer them. Sold AS-IS due to the
nature of the hobby, but I try to describe items as accurately as possible
---
This lot is no longer for sale. Please enjoy the photos!
---
Additional Information:
TC3 - Manual - Download (6.2 MiB)
TC3 Factory Team - Manual - Download (8.6 MiB)
TC3 - Exploded View - Download (946.5 KiB)
TC3 - Tuning Notes - Download (1.5 MiB)