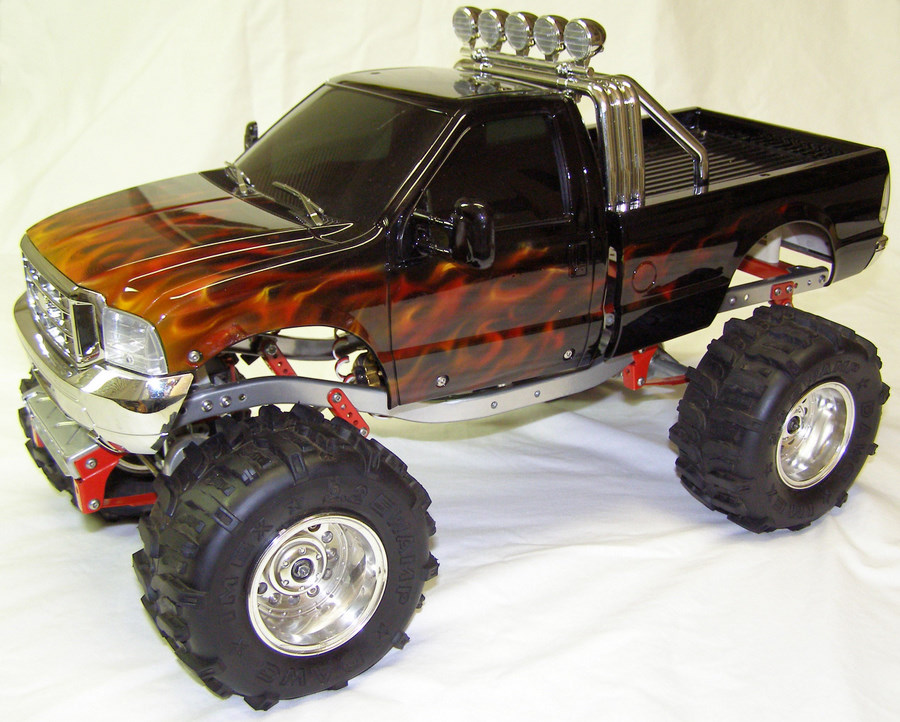 This is my Tamiya Bruiser (Tamiya part # 58048). This truck has many of its original parts intact which are normally gone or broken. Some items have been replaced with modern parts like the transmission and driveshafts. This is to improve reliability and to look more custom.
The original body for the chassis was a Toyota, but this custom painted one is an F-350 by Ford. It is very scale and was pulled from a new Tamiya F-350 High Lift kit. The paint was done just like on a full size vehicle with primer and clearcoat. Most of the chassis parts have been powder coated including the frame rails and leaf spring assemblies.
The transmission was replaced with an R2 Tranny from RC4WD, the tires are IMEX Swamp Dawgs, and the axles have been locked for better traction when crawling. All screws and hardware have been replaced with nice shiny Stainless Steel ones. I received this model in the condition pictured, and had planned for many realistic looking improvements. I sold the chassis, but kept the body.
Currently, in the body I have installed a full lighting kit which is controlled by a switch on the controller. It is mounted on its original type F-350 High Lift Chassis for now, but will be receiving a beautiful all metal Scale Chassis from RC4WD as soon as I can afford it.
Enjoy!
---
---
This chassis was TRADED on August 7, 2008 for New in Box Tamiya F-350 Truck.
Approximate Value: $400 – I did keep the body for a future project.
---
Additional Information:

Tamiya #58048 Bruiser - Manual - Download (9.4 MiB)
Tamiya Bruiser - Tranny Service Manual - Download (2.8 MiB)