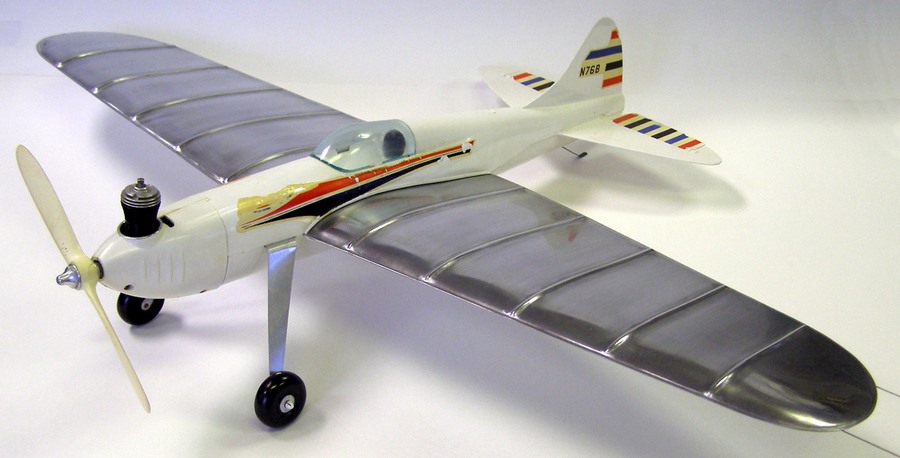 This Airplane is a Super RARE Vintage Cox TD-1, also known as the Thimble-Drome, Control Line model in excellent mechanical condition. The decals show alot of flaking and some of the plastic is slightly off-white in color, but the model has NEVER been started or flown. It was hanging in my friend's hobby hobby shop for most of its life as a display model.
I was amazed to look at this model. There are no cracks anywhere and in some areas you can still see the flashing from the molding process. The wings are very thin aluminum stamped into shape and joined in 2 pieces (top and bottom) to form a nice airfoil shape. It looks like a fully symmetrical airfoil and since it is low mounted (below the cockpit), it was probably a very sporty handling plane. One wing has a small soft dent in it, but that is the only blemish I can find. It may be possible to repair this, but I would never have attempted it with my limited skills in this area.
The wheels are perfect, the landing gear is perfect, and the engine is original and has never seen a drop of fuel. The only thing missing is the box, and I don't think the cardboard would have lasted this long without falling apart anyway. There is a small bag of goodies which was included with the model. Although it was opened, everything appears to be there and intact. The original instructions and other paperwork is with it, although in rather frail condition from aging. It does appear to be complete and legible. There is even a rubber finger guard in the bag of goodies for starting the engine. This was such an early model that the spring starter hadn't been developed yet.
I hope you enjoy this glimpse into the past as much as I have!
---
---
This airplane was SOLD on September 25, 2007 for $450 to a collector in Vermont.
---
Additional Information:

Cox TD-1 Thimble Drome Manual - Download (227.2 KiB)
Biography of Leroy M. Cox - Download (132.4 KiB)