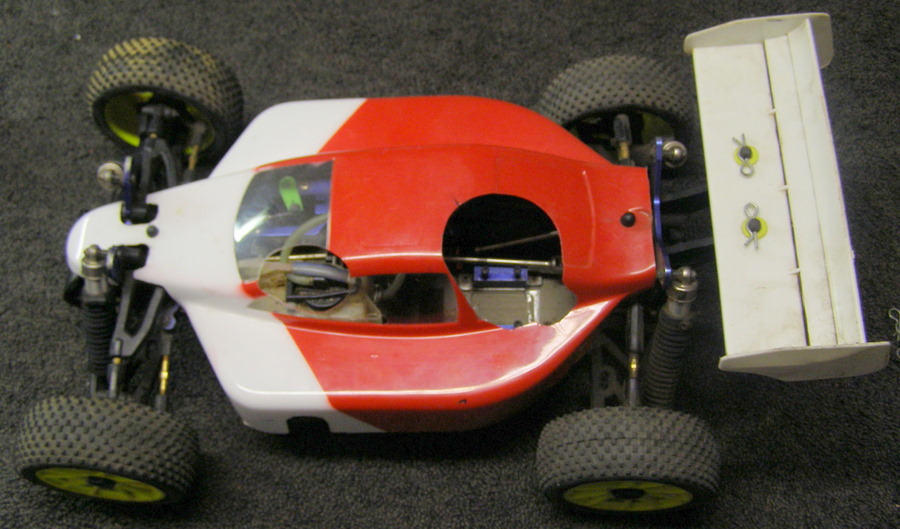 Thanks to a friend, I now know this is a Kyosho MP7.5 1/8 scale buggy with a few Kanai parts on it.
It is in solid shape and has been my personal model for many years now. I used this buggy to break in engines and test power output after modifying engines.
Description
The titanium chassis is straight and all mechanical parts are in great shape. You can see the heavy abuse the chassis has taken by the light scuff marks on it. They only removed the coloring and can barely be felt when rubbed. Titanium is very tough stuff. There's a steel main gear and some of my personal tweaks to make this thing run great. The diffs are sealed and filled, but I can't remember what weight of silicone I put in there. They operate smoothly and the housings are sealed to the chassis too. This prevents dirt or sand from getting to the ring/pinion gears.
The tires are in very good condition with most of their tread left. The whole buggy needs a good surface cleaning, but no disassembly will be required to run it. The shocks are protected with covers and operate very smoothly with no signs of leaking. All parts are in solid condition and are straight. There's a HiTec HS-645MG servo in it for Throttle Brake duty, but you will need the rest of the radio gear to run it.
Also included is a used HPI Nitro Star S-25 Engine which runs, but really needs a new Piston and Sleeve assembly. I have run about 3 gallons through it, but it still has ok power for bashing around the yard. I modded this engine and it made about 25% more power than original. You also get the Roto-Start for it and a tuned pipe, header, springs, and an air cleaner. The chassis was slightly modded to allow for pull start engine installation, so the S-25 should be an easy installation.
This buggy is lots of fun and requires very little maintenance to keep it in great shape. I just have too many of these buggies now and one of them has to go.
CLICK HERE to View Price or Purchase
---
---
So that's the stuff. Please ask questions before buying so I can answer them. Sold AS-IS due to the nature of the hobby, but I try to describe items as accurately as possible
---
CLICK HERE to View Price or Purchase
---
Additional Information:
MP7.5 - Manual - Download (6.7 MiB)
MP7.5 Kanai 3 - Manual - Download (11.7 MiB)