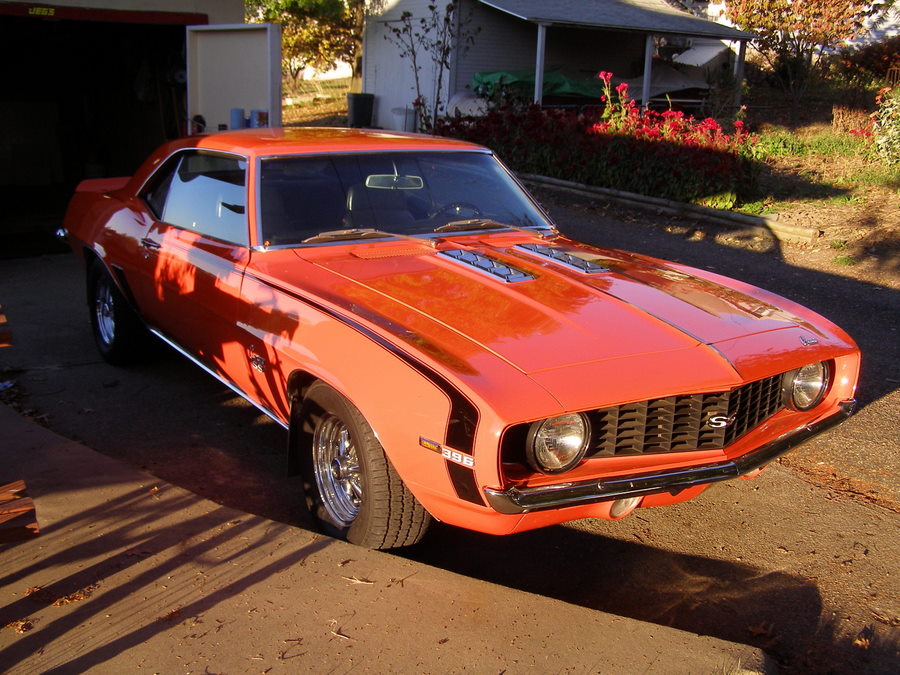 This is my Numbers Matching Camaro SS 396
This is my 1969 Camaro. After several years of spending crazy money on it and reworking the car, I had thought of selling it to start another project. When the time came however, friends and family reached out and let me know how much they loved this car and what a heartbreak it would be to sell it. So, for now, my Camaro is NOT For Sale. In light of this emotional decision, I might make some improvements to the Camaro's handling and transmission, and try to enjoy it more than I have been lately. If it's not original anyway, I might as well drop in somethin' really nice. 6-speed with fuel injection maybe? How about a 4-Link bolt-in rear suspension?
I have added a section in the sidebar to provide some similar 1969 Camaro SS's since you probably found this page while looking to buy a nice old Camaro. Thank you in advance for using my links when possible, and for your interest in my Chevy.
1969 Chevy Camaro SS Description
You will see in the photos what a beautiful machine this is, but to really believe it you'd have to come by for a ride. I have a clean title in my name, the original purchase receipt, dealer brochure, and all service manuals for this car. It is an "X22" code car which means it is an original Big Block car. I have decoded as much information as I can find on the car and documented it in a notebook. Engine casting numbers indicate a period correct engine in the car now, and I have the Original Numbers Matching 396 on an engine stand. This car has no rust that I can find and has a solid body. The Interior appears all original with no holes or bad spots. The smell….Mmmmmm Old Muscle Car Vinyl! I Love it!.
Here's a little test drive….
"The engine growls at you through the dual exhaust, while under the hood you hear the sewing machine ticking of a solid lift mild/wild camshaft. The engine lopes slightly and warns you of impending fun. Warming the tires up with the Hurst Roll-Control front braking system is alot of fun. The tire smoke will engulf the car in a matter of seconds to act as an air freshener for a few hours inside the car. Back-up into the tire smoke and inhale deeply…. and then, easing the pedal to the floor, you can feel the massive Torque of the Big Block 396 rattling your body. You can struggle to reach the dash for fun, but I recommend letting your head rest on the seat to feel the engine rattle your teeth a little. The pedal needs a light touch to avoid slipping the rear end loose, but the sweet sound of full length headers urges you on. Then you feel the mechanical 4-barrel kick in on the Holly Double Pumper. All the sudden, the shift light comes on at 4900RPM, blinding you to shift, and then at 5400RPM the MSD Ignition system starts dropping random cylinders to limit the RPM. A couple pops and you grab the next gear if you have one! WhooHooo! Crazy Fun!"
Click on any image to enlarge
---
This car has a beautiful PPG finishes basecoat/clearcoat paint job in the original Hugger Orange. The paint is very nice and has no blemishes or other problems. (**UPDATE: There is a ding on the front passenger side fender. Small, but it will need some work to repair. I may fix this soon though.**) (**UPDATE: I got the ding nearly completely worked out by rolling a ball peen hammer around and around from the inside of the fender. I did NOT hit it. Just a little more work and some touch-up paint and it should be barely noticeable if at all 😉 **) The mud flaps on the car are stainless steel and are to protect the paint. I carefully measured and drilled them so they are all perfectly even with each other and they mount through original screw holes holding the trim on. This makes it easy to remove them if you desire. I painted them using a template made from the rear end SS emblem and they look very factory.
---
The headlights have been wired using relays directly to the battery to make them about 50% brighter, but the original wiring has not been modified. The lower turn signal light blinks orange and has been painstakingly cleaned and restored to it's original beauty. You can see a new Grade 8 bolt holding the bumper on.
---
There are many new parts from Year One. I installed these new GM door/trunk/glovebox locks while the previous owner probably replaced the emblems and trim. All exterior chrome trim parts are nearly flawless. The door latch mechanisms were thoroughly cleaned and restored and work perfectly. Doors open and close with a nice thud and have no slop or squeak at all. Very nice.
---
In the trunk things are pretty original except for the paint. You might notice some hoses near the back seat. These hoses are connected to 2 washer fluid pumps and go to nozzles in front of the rear wheels. You can load a washer fluid bottle full of water, bungee it to the back seat, and push a button under the dash to make your own instant wet-box for burnouts. It doesn't need this since I replaced the clutch, but it's fun anyway and always gets peoples attention. The service manuals and dealer brochure are laying on the trunk lid, but they are not hiding anything. The paint is just as perfect under the books as it is on the rest of the car. The manuals have some dirty pages because I actually used them quite a bit.
---
The seats appear to be original and do not have any holes, cuts, or other funny stuff. These are what gives the car that old muscle car vinyl scent I love so much! Of course, the occasional dose of tire smoke mixes quite well with this smell!
---
And here's where the fun happens. Driving this beast is awesome! The additional gauges are needed because I actually drive this car a few times a year and I don't want any surprises with the engine. There's an isolated fuel pressure gauge, MSD shift light, Temperature, Volts, Oil Pressure, and of course a Sun Super Tach. The wood grain steering wheel trim is new because the chrome ring was worn off the old one. I kept the old one though. You can also see the new pedals down there too. The radio is just some $10 cheapo I bought that would mount into the existing holes. I did not modify the dash in any way and the factory wiring is intact. I have the original radio in a box and I'm pretty sure it still works. I took it out because it is AM only or wouldn't pick up any stations I liked, so I put in this tape player.
The toggle switch just barely visible below the dash is for the fuel pump. I turn this off and burn the fuel out of the carb when I am done running for a few days, or weeks. The button on the shifter is for the Hurst Roll Control. This is a Line lock that holds pressure to the front brakes for burnouts. It is alot of fun!
---
Looking under the car, there is some surface rust on the exhaust and starter. I don't know how this happened since I never get the car wet, ever. I cannot find any rust holes or other damage underneath the car. The undercoating is dirty, but seems to have protected the car well. The exhaust hangs really low, but I think new springs might help lift the car a bit. I like the low stance myself, so I have left it alone. This car makes so much horsepower that I had to install traction bars as a temporary fix until I can afford the bolt-in 4-link kit. The rear end was twisting up into the rubber stop and started chewing it away! I have been told that leaf springs with an extra leaf on the front would help this too.
The factory 12-bolt Posi-Traction rear end has new clutch packs in it and the factory 3.31:1 gearset. It runs smooth and shows no signs of damage or wear. I installed a new tag, painted the cover, and installed a new set of stainless steel bolts. Power is transferred through a Muncie 4-Speed which was recently rebuilt. The clutch is a Centerforce 2 high performance unit and is housed in an NHRA approved 1/4″ thick scattershield for safety.
---
Here's the engine compartment. You can see there isn't much room left in there! Everything about this powerplant is big. This engine is a period correct 396 bored to a 402 with a mild race cam, Harland Sharp roller tip rockers and solid lifters. The compression is about 10.5:1 and it likes 93 octane with some octane booster for optimum performance. The heads were ported and polished and have hardened valve seats for lead free gasoline. Originally, this engine produced a rated 325HP, but now it should be in the 450-475HP range (according to desktop dyno). It is a 2-bolt main with all new main and rod bearings. I wrote all clearances down in my notebook along with tons of other information about this engine.
You can see there is a nice aluminum plate between the carb and the intake manifold. This is sandwiched with a fiberglass plate to prevent heat soaking of the carb. After running all day, you can still lay your hands on the carb without getting burned. The fuel pump is mounted in the front of the compartment and also has a custom heat shroud around it to prevent overheating. I had some vapor lock problems early on which prompted these changes. There is also a fuel cooler in front of the radiator.
---
Here's the fuel pressure gauge isolator and MSD Pro Billet Distributor. The isolator has a diaphragm in it that the fuel presses against. On the other side of this diaphragm there is antifreeze. This way, if something goes wrong with the gauge in the car, you don't have 100GPH of gasoline shooting in your face. The distributor was very expensive and so were the wires. The whole ignition is MSD, but I also have a new HEI unit and the original points type that came in the car.
In front of the Radiator, you can see the MSD 6AL Ignition control module and fuel cooler. The MSD has a rev limiter built-in which drops random cylinders to prevent engine damage. I was told by a qualified engine builder that this engine is good for about 6000RPM, so I installed a 5400RPM chip to be safe.
You might notice that bug on the black plastic. He had a bad day. The black plastic cleans up very nicely, but I didn't have time to do it on the day I took these photos. Sorry for the dust on there. I do drive this car you know.
---
And finally, here is the original numbers matching engine for this car. When I bought the car, the previous owner said he got this engine the way you see it here. I don't have the space to work on it, so I don't know if it runs or if there are any problems with it. Many of the bolts are loose, and there are no external indications of problems (i.e. holes in the block, etc.). If the block is good, everything else can be replaced. Even some block damage could be repaired by a professional and I know one. He was a world champion engine builder and drag racer back in the late 60's early 70's and he specialized in this engine. If you want his phone number, I can help you out.
---
I have taken great pride in owning this car. On only two occasions have there been a few water droplets on the top of this car and they were quickly dried off. I keep it waxed and in a garage under a car cover. My work on the car is limited to things that will not permanently alter it so if someone wants to restore to factory original, they can. When the paint chips somewhere, I open up my Hugger Orange touch-up paint and dab some in there. After a few weeks, or when the paint is hard, I start wet sanding the area with very fine paper and a 1″ square block of wood. Eventually, the chip is perfectly level with the rest of the paint and there are no sanding marks at all. I always challenge people to find my repairs. They never can.
Whenever I replaced parts, I kept the originals and boxed them up. Some of these items include: the original valve covers, intake manifold, rally wheels with beauty rings and centercaps (2 sets), the original radio, original ice cube trays (hood vents), pedals, door/trunk/glovebox lock set, and a bunch of stuff I cannot even remember. I also have an extra set of brand new headers for this car. One item to note is the original Hurst Shifter Stick. It has a rounded shaft on it while the replacement I bought has a squared corner shaft. The original just needs some new chrome and it can be put back in the car. It is rare and you cannot buy the original style stick anywhere.
---
Value
So, how much is it worth? Let me put this into perspective for you first. At the 2009 Barrett-Jackson Auction in Scottsdale AZ, a car nearly identical to this one, sold for $82,500. To be fair, it was a green car with an "X66" code and a factory tach. Other than those things, it is the same car as mine. To see the details of this car, visit Barrett-Jackson.Com Search Page and search for Lot# 988 in the Scottsdale 2009 Auction.
Based on this and other similar car sales prices, I have estimated the value of my 69 Camaro at about $35,000. Currently, my Camaro is not for sale.
Please Contact Me with any questions or comments.