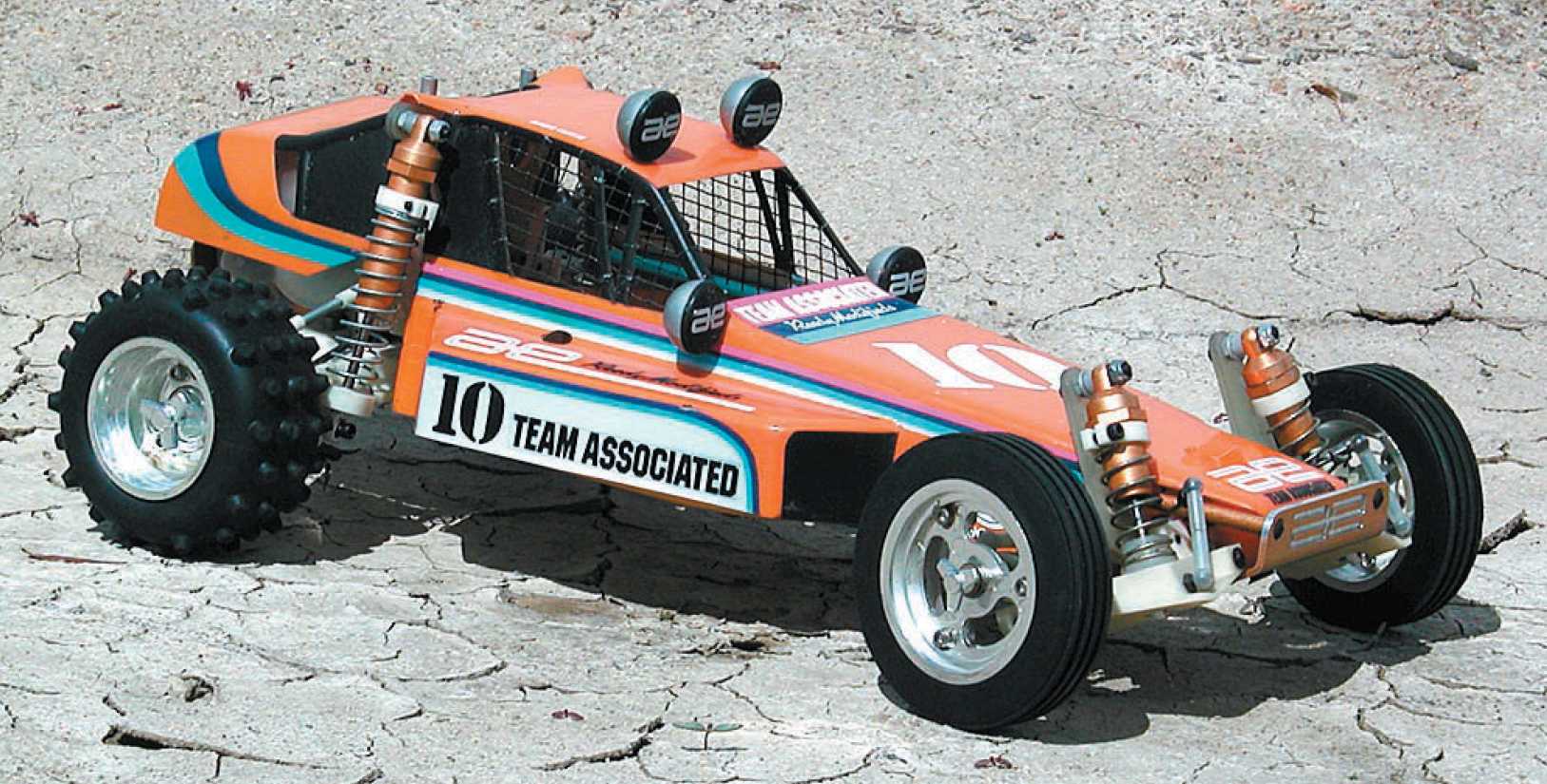 The Team Associated RC10 was introduced in 1984 and revolutionized the world of Off-Road R/C modeling. Team Associated had been involved in cutting edge development in the on-road arena for several years before introducing the RC10. Team Associated's RC250 and RC500 started the R/C craze by making models available that could be raced competitively.
The RC10, with a stamped aluminum chassis and smooth oil filled shocks at all 4 corners, had it all. Team Associated began a winning streak that lasts to this day when they first raced the RC10 at the World Championships. It has evolved over the years into today's RC10 B4 buggy, which no other manufacturers have been able to match.
Each version released included fine design tweaks that improved upon the handling and race winning ability of the model. Dozens of manufacturers jumped onto the bandwagon and provided the most comprehensive selection of aftermarket modifications and conversions ever seen for an R/C model. Many of these companies grew to dominate the market to this day, but there were a few that slipped into obscurity and their parts are worth huge sums of money now.
Perhaps the best record of the design process for this first buggy is explained by the company itself in the video series "RC10 – The Winning Edge". I have included it here so you may enjoy the rich history of this model which spawned the creation of an entire industry. I hope you enjoy it, and if you have anything you would like to add please contact me so I may include it on this page.
Thanks for checking it out!
RC10 – The Winning Edge (from the original VHS video tape)
Part 1 of 5
In Part 1, Roger Curtis shows the original RC10 prototype buggies and talks about design decisions during development. He covers just about every aspect of the RC10 including shocks, transmission, suspension movement and more.
Part 2 of 5
In part 2, Gene Husting talks about his part in the development of the RC10 and how to get involved in R/C racing. Then Mike Reedy talks about how they modified the Japanese made motors for maximum performance while showing the motor winding and build process. There's a short music video showing the RC10 in action, then World Champion Mechanic Jim Halsey begins discussing detailed setup tips for weight balance, suspension settings and shock setup.
Part 3 of 5
In part 3, Jim Halsey continues discussing shock setup and what to look for when the car is running to get it right. Then Jim moves on to talk about the transmission and offers very detailed build tips for the 6-gear tranny. He covers how to adjust the 6-gear tranny spline plate, proper deburring of the internal gears, advanced slipper clutch setup and weight reduction techniques, chassis weight modifications, motor and gearing setup, radio system tips and more.
Part 4 of 5
In part 4, Jim Halsey finishes talking about car setup and what he watches for during racing to know what adjustments to make. Jammin' Jay Halsey discusses the jobs of each team member and what it takes to win races and what to look for when driving so you know what adjustments to make.
Part 5 of 5
In part 5, Jammin Jay Halsey continues talking about racing, then there are some music videos showing racing action.