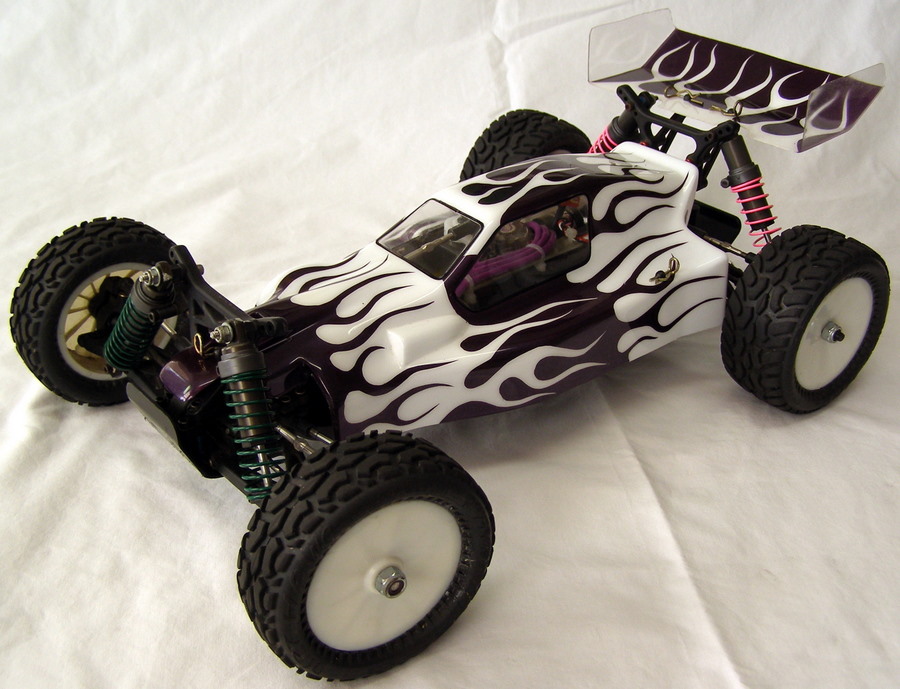 This is a Team Losi XXX-4 4WD Buggy I bought on Ebay. It was in rough shape when I bought it, but after spending lots of money on wheels, tires, a Novak Brushless System, a new body, and some other stuff, it really rocks! I carefully rebuilt the entire model and ordered new belts, diff parts, etc. I didn't install the new Kevlar belts right away, and on the test run they blew apart…BAD! The long one was total dust packed into the housing. Only about half of the rubber on the belt remained, the rest was just threads that ran lengthwise in the belt. The rubber had been stripped off and ran through the teeth of the 1+HP motor and ground into a fine powder.
The electrics include a Novak Velociti 5.5R Motor and GTB ESC with Cooling Fan. I chose a 20C 3200mAh Li-Po for power which was a long pack like a 6-cell Ni-Cad pack. This model is designed for a saddle pack (3 cells on each side). I had to reposition and custom wire everything custom to make it all fit right. I got it just about perfect as far as weight distribution. The wiring, yeah…it took many hours of staring and thinking to come up with a workable solution.
So how does it run? AWESOME! This thing has only been run through 2 full charges because it flips over backwards under full throttle. With the crazy light weight and insane power system, it probably hits 60mph or more. It gets really hairy at these speeds and I didn't want to tear it up. So, now it sits on the shelf showing off. It is a solid performer and a real treat to tinker with.
---
---
Additional Information:

XXX4 Graphite - Manual - Download (4.5 MiB)
XXX4 Graphite - Exploded View - Download (1.3 MiB)