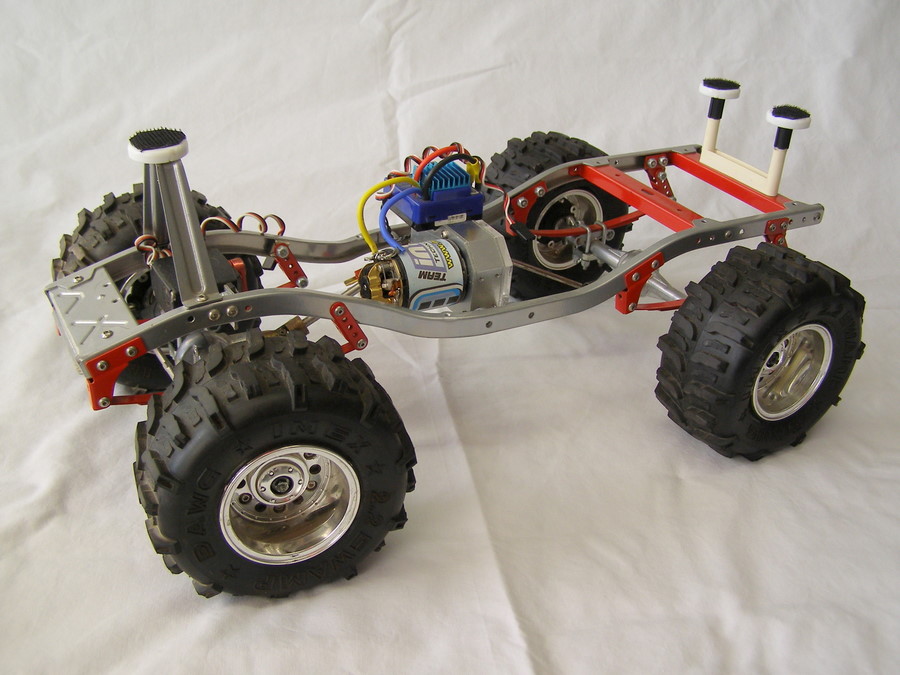 Here is a very clean powdercoated bruiser/mountaineer chassis. I believe it is the same as the Hi-Lux Chassis too. I purchased it planning to make a really nice scale truck out of it. I thought I would be able to make some time to work on it, but it's just never happened. I ended up Trading it for a Tamiya F-350 New In the Box. Well, now I'm trying to find time again. I will never learn! I have kept the photo gallery on my site for you to enjoy.
This truck has many powdercoated parts. I believe the chassis and axles are coated with silver or clear, or maybe it's paint. Either way it looks real good. All of the red parts are powdercoated and in near perfect condition. Nearly all the screws are stainless steel and the servo has an aluminum arm on it. The tranny is an R2 made by RC4WD.com and is in excellent condition with the optional clear gear dust cover installed. The Integy lathe motor is included as is the LRP Digital ESC with Reverse. I don't have the paperwork with the ESC, but you can find it on-line pretty easily. This is a
project truck, so you will need a few items to make it trail ready.
The steering servo has clearly been mounted over the front axle. This is a modification from the original design. The tranny is a single speed low geared unit. These 2 features pretty much eliminate the need for the original bulky radio box and allows a much nicer scale appearance. One thing wrong with the truck is that the rear axle traction bars are not installed. They are included in the parts pack in photos. Without these bars, the rear end will twist and let the driveshaft fall out in reverse. The driveshaft is not original because the tranny sits differently than the original one did. You would probably want to use the aluminum telescoping driveshafts that RC4WD.com sells. That was my plan. I suspect installing the traction bars will make things work properly though.
The tires are modified Imex Swamp Dawgs and they look Awesome! There are no shocks on the truck, but a pair of turned down TLT shocks are included. They are polished to a high shine too! They are empty though, and you will need to fill them with oil. I do not know if they leak since I haven't had time to mess with this stuff. I was planning to use a set of the RC4WD.com white scale shocks with red rubber boots. That would look perfect on this truck! I just saw a set on ebay the other day. They look like the full size Rancho RS5000 shocks.
---
---
This truck was TRADED on August 7, 2008 for New in Box Tamiya F-350 Truck.
Approximate Value: $400
---
Additional Information:
Tamiya #58048 Bruiser - Manual - Download (9.4 MiB)
Tamiya Bruiser - Tranny Service Manual - Download (2.8 MiB)