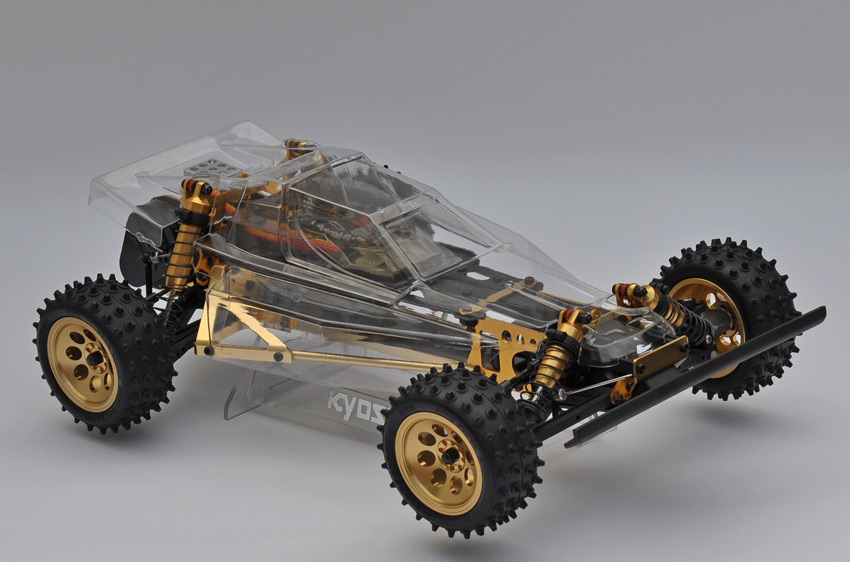 This wonderful model is proudly owned by Werner Sigg. It is a near perfect example of the old school Kyosho Turbo Optima.
This R/C model is basically stock, but has the Gold Celebration Chassis kit installed. This was a special factory upgrade option which included many gold anodized chassis replacement parts. This Turbo Optima is so clean and beautiful that I would bet it has never been run before.
The Turbo Optima was released in the Summer of 1986 as an upgraded edition of the Optima buggy. Sporting a chain drive system to power the 4WD drivetrain and lots of metal parts, this was an elite model in it's day. The chain drive was a very memorable part of this buggy both because of it's awesome mechanical look and for its weakness of trapping rocks in itself. The tensioning system was also miserable and made for a difficult time getting the tension just right.
The Turbo Optima was Kyosho Kit # 3130 and was released in 1986 between the Optima and Turbo Optima Mid editions.
Specifications:
– Powered by a RS-240S motor
– Chain Driven 4WD
– Length 15.3″
– Width 9.5″
– Height 4.9″
– Weight 3.75lbs.
I would like to thank Werner Sigg for providing this beautiful photo gallery for your enjoyment!
---
---
This photo gallery was contributed by Werner Sigg on June 14, 2011.
---
Additional Information:

Turbo Optima - Manual - Download (10.9 MiB)