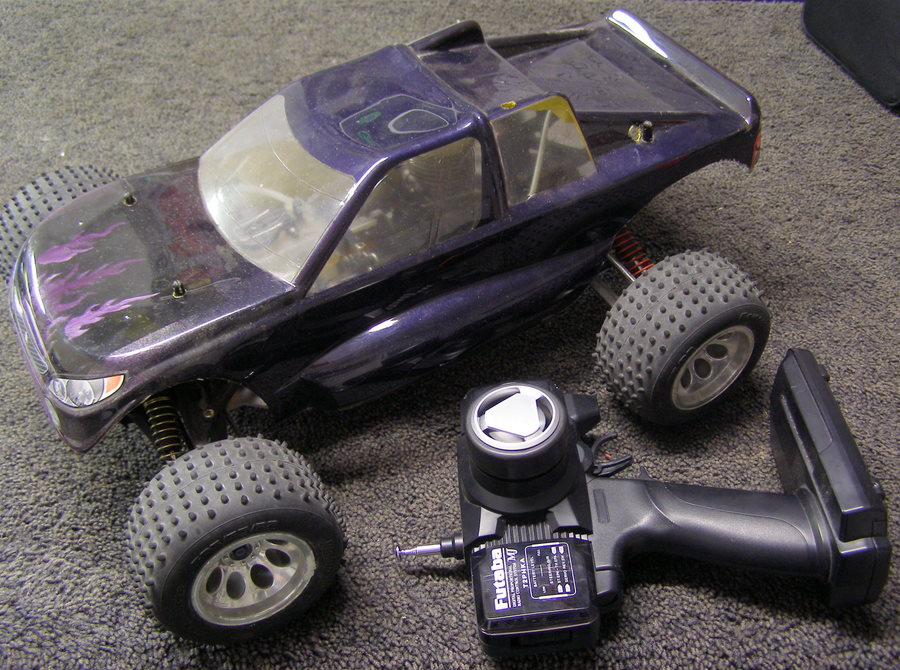 Here's a Kyosho TR-15 4wd stadium truck. These are becoming hard to find now. The body isn't original, but everything else appears to be. The chassis is similar to a 1/8 scale buggy with a center section and individual front and rear shaft drives going to the gearboxes. There is a single disc brake on the center section for stopping and it works very well.
Description
I can find no broken parts and the bottom has only very minor scuffing from normal use. I would guess it has been run only a couple of times because it is in real solid shape underneath. The chassis looks straight and hasn't been modified that I can see. There is a little dirt and debris on it, but not much. It would be easy to clean up to almost like new again.
All the driveline is intact and shows virtually no wear at all. The shocks could use some oil, but are complete and not damaged. The tires show a little wear and I would guess about 75-80% of the tread is still there. All radio gear is installed and seems to be set-up properly. The radio gear was tested on the bench and worked perfectly, but you should range check it prior to running for safety.
This truck has an aftermarket 1/8 scale body on it that's in pretty decent shape. It's a little rough around the edges, but there is little/no scuffing from rollovers or anything. It mounts securely and doesn't flop or flail on the truck. It only has 2 extra holes drilled in it for the rear body posts.
The engine is the original Kyosho GSXR15 (.15 cu/in.). The original header and pipe are in great condition with no damage at all. I just completely rebuilt the engine and ran it. The insides look brand new except for a little gum still on the internal crankshaft bearing. A close inspection revealed that the balls and races are very clean and the bearing functions perfectly, but the race holding the balls is a little gummy looking. It looks very new inside and the piston and sleeve show nearly no scuffs at all and look new. I was very happy to find this engine in such great condition and I believe it has a long life ahead of it.
When I first got this truck, the engine was so gummed up that it wouldn't even turn over. After some work and a little running, it is a great runner. Be sure to check out the video showing the truck running right after the rebuild on the engine. I would love to keep this for my own collection, but I have too many models already. You will enjoy this truck.
This truck has been SOLD!
---
Performance after Engine Rebuild
The rebuild took a few hours to make every little piece just right. No new parts were required, but there was a terrible amount of thick hard gunk on everything inside it. When I took it outside for a test run, the engine fired up first pull and ran very good. It needs a little tuning, but is solid and should run well for a long time.
---
SOLD on July 25, 2011 for $184.99 to a Fellow Modeler.
---
Additional Information:
TR-15 Stadium Force - Manual - Download (8.9 MiB)
TR-15 - Exploded View - Download (813.4 KiB)
TR-15 - Quick Start Guide - Download (1.3 MiB)
TR-15 - Parts List - Download (177.9 KiB)