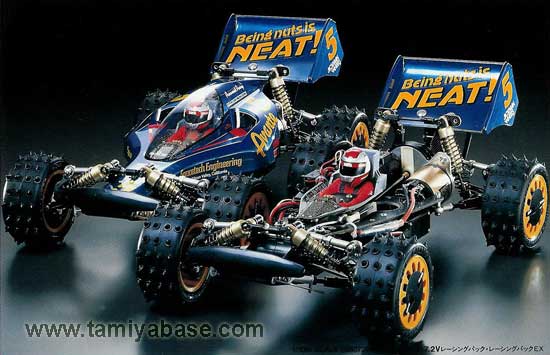 Technical, Beautiful, and very Expensive.
Specifications
– 1/10 scale off-road vehicle
– 4 wheel drive (shaft driven)
– 2 piece FRP (Fiberglass) double deck "sandwich" type chassis
– Fully independent 4 wheel suspension
– Fully adjustable aluminum coilover shocks
– RX-540VZ Technigold motor (optional in some kits)
– Wide pin spike tires with foam inserts
– Lexan body and under belly protection
Description
Released on March 31, 1988, the Avante (kit #58072) was Tamiya's response to the numerous "serious" competition off-road racers that came out on the market in the late 80s. If you remember the late eighties then you'll remember that Tamiya cars were non-existent on the competition circuit. The Frogs and HotShots had been replaced with Yokomos, Kyoshos and Associated Electric products and Tamiya was no longer considered a serious contender.
The Avante was suppose to change all that, it would bring Tamiya back to the forefront of technology once again. A completely new design, Tamiya re-introduced the use of exotic materials into a radically different chassis design. Made primarily of aluminum and FRP parts it was a departure from the plastic-only kits that dominated the model lineup of that age. The kit was to be stronger and more adjustable than any other car. Sporting features such as oversized aluminum dampers, adjustable upper turnbuckles and an ultra stiff FRP chassis, the Avante had all the right parts.
Although innovative, the car was also mostly an unproven collection of paper designs that didn't come together into a competitive car. The aluminum parts were too soft and broke often, the front suspension bottomed out with alarming regularity and the handling was not up to spec when compared to cars of the time.
Couple this with the sheer expense of the kit ($300 when it first debuted), the car was a sales flop. Although Tamiya would later use the design (albeit with a lot of plastic parts) in a few other cars, it never did make the impact in the racing world that Tamiya had hoped for.
Having said that, I don't want people to think that this was a terrible car. In fact, quite the opposite! It was a marvelous tour-de-force of high-tech materials coupled with that incredible engineering expertise that Tamiya was known for. No other company could have put out an Avante other than Tamiya. Tamiya managed to make a car out of exotic and tough to work with materials that was as easy to assemble as any of their all-plastic kits. No other company could have accomplished such a feat.
The car also had many innovations which we would later see in other more successful cars. The engine is mounted midship and parallel to the center drive shaft. This simple and efficient design can now be seen in the latest Associated TC3 on-road car. The use of foam inserts in the tires, the rear wing's attack angle could be altered and the use of a ball differential in the rear.
These pictures, and the one of the box at the top of the page, are actually 3D models created in the FREE Google program, Sketchup. A fellow modeler who works in the 3d computer modeling field created this for fun. Absolutely unbelievable. Please check out more of Tom's work at www.quickit.eu or at his blog Virtual Garage.
Family Tree
The Avante was kit number 72 from Tamiya, Tamiya part number 58072. A 1/10 scale 4WD off-road car, it was designed as a true competition off-road car for the experienced modeler.
After Tamiya had success with the Hot Shot series of kits they went all out to design the ultimate race buggy to compete with the faster & lighter kits such as the Optima series from Kyosho. The car was extremely expensive and in some markets did not come with the RX-540-VZ Technigold.
In many ways this kit was ahead of it's time sticking to an innovative shaft drive-train when everyone else was opting for belts. There was also a center ball differential, another first in it's class. It had a near center placement of battery and shared much with the common on-road 4wd touring cars of today in terms of layout. The wheels had another innovative feature of quick release fold out tabs allowing the user to remove the wheels without a wrench, although many racers removed this to save on weight.
The car however did not fair well on the track and is considered to be some what over engineered. Even with an innovative front suspension design, that used a rubber cylinder to allow the front arms to fold back slightly in the event of a front end collision, the car had fragile front suspension. Typically always breaking at the front upright. Tamiya did release a update upright with a slight change in the casting later on to rectify this. But due to the complexity of the front suspension the car did suffer from a lot of steering slop. The short wheel base and wide front wheels also gave the car a tendency to over-steer. Again a common racing tip was to fit narrow tires up front to reduce this attribute. Weight was also an enemy of the Avante.
Another criticism was the amount of suspension travel, with it being very limited and as such found it hard to work well in the rough and rutted tracks of the day. But with all that being said this car is a true work of art with so many cool features for its time. It is its complexity that makes this a queen among queens on the shelf.
Tamiya did however produce a series of cars after the Avante addressing many of its criticisms.
The Vanquish (kit #58076), released December 20, 1988, attempted to offer the chassis layout at a cheaper price replacing the FRP (Fiberglass) chassis with a common plastic tub design. The suspension was simplified into one piece plastic arms, both saving weight, reducing some slop and improving the strength. The cool gold alloy shocks were also replaced with the cheaper yellow plastic items.

On June 29, 1989, Tamiya released the Egress (kit #58079). This could be called an all out competition spec evolution of the Avante. There were many improvements. A longer wheelbase, Carbon Fiber plate chassis, plastic lightweight suspension arms from the Vanquish, a longer wheel base, longer shocks, lightweight wheels, one-way center diff, ball bearing steering, and Titanium screws.

The last in the series was the Avante 2001 (kit #58085), released on June 19, 1990. Borrowing the same longer chassis from the Egress but instead of being made from Carbon Fiber it was now made from cheaper FRP (Fiberglass). The suspension arms were also plastic, and the shocks were replaced with plastic units. This was the Avante to own if you wanted to race at club level.
Historical Significance
As a completely new design and a rare one at that, this car holds a very significant place in Tamiya history and examples that come up on the market are highly collectible. Because of the rarity of the parts for this car. New-in-box examples tend to fetch considerably more than other models of Tamiya cars.
A partial failure for Tamiya but an incredible example of Tamiya's engineering prowess.
Additional Notes
In North America the kit was available with or without the Technigold motor. Since this motor is a highly desirable option, the presence of this motor is a much added plus to the value of the kit. The kit was also quite complex, so an instruction manual is desirable.
Most people that built the Avante found that the car lacked space for an ESC and receiver and ended up tossing the driver/cockpit detail piece in favor of more room. For completeness, make sure that the car has this piece.
I would recommend against purchasing any Avante that appears to be missing parts. Parts are extremely difficult to come by and restoring a partial car can prove very costly or even futile.
Rating
– Collectible – 9 out of 10
– Fun to drive – 8 out of 10
– Parts availability – 4 out of 10
Special Thanks
I would like to thank Lars at tamiyabase.com for allowing me to use photos from his site. He has alot of nice photos and technical information over there, so if you're into Tamiya stuff check his site out.
Thanks to Tom over at Virtual Garage for allowing me to use his Sketchup renderings of the Tamiya Avante.
---
Additional Information:
Tamiya #58072 Avante - Manual - Download (6.7 MiB)
Tamiya #58072 Avante - Exploded View - Download (5.7 MiB)
Tamiya Avante Original and Fully Polished